SCOPE New York 2010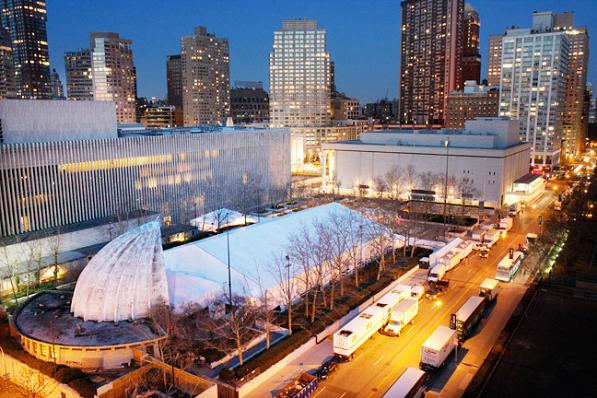 Photo by James Painter Belvin
NEW YORK-
Building on Miami's overwhelming success, SCOPE launches its 2010 season with its flagship fair, SCOPE New York Art Show. SCOPE proudly returns to Manhattan's most famous cultural icon, Lincoln Center, with a glass facade pavilion situated in Lincoln Center's Damrosch Park, at the corner of 62nd Street and 10th Avenue. SCOPE New York is just blocks from the Armory Show and serviced daily by shuttles and pedicabs.
Last year's fair featured galleries from four continents and 20 countries, including China, Mexico, Japan, Korea, Brazil, Italy, France, Belgium, the Netherlands, Norway, Switzerland, Germany, UK, Spain, and Canada. SCOPE New York's invitees will uphold its unique tradition of solo and thematic group shows presented alongside museum-quality programming, collector tours, screenings, and special events. The fair opens to Press, SCOPE and Armory VIPs on Wednesday, March 3, 3-9pm with the FirstView benefit, a $100 charitable donation for all non-VIP cardholders.
Introducing artists, curators, and cutting-edge galleries to new audiences internationally has made SCOPE the most comprehensive destination for the emerging art world available anywhere. With art fairs in Miami, Basel, New York, London, and the Hamptons, SCOPE is proud to be an influential presence in the expanding global art market.
Location
Lincoln Center Damrosch Park
62nd Street and Amsterdam (10th Avenue)
New York, NY 10023
Opening Schedule
FirstView
for all VIPs and press
or $100 donation at the door
Wednesday
| March 3 | 3pm-9pm
PressView
Wednesday
| March 3 | 6pm-9pm
RSVP to
press@scope-art.com
General Admission Fair Hours
Thursday
| March 4 | noon - 8pm
Friday
| March 5 | noon - 8pm
Saturday
| March 6 | noon - 8pm
Sunday
| March 7 | noon - 7pm
SCOPE FOUNDATION
Film Program | Daily | March 4 - 7
Thursday
| March 4 | Martha Colburn | "Political Revolution in my Basement"
Friday
| March 5 | A Shaded View on Fashion Film curated by Diane Pernet | Michael Nyman "Distractions"
Saturday
| March 6 | ISSUE Project Room curated by Zach Layton | "d.i.y. sci-fi"
Sunday
| March 7 | Divya Mehra and Rammy Lee Park | "The Interruption" a hyperreal installation and selection of films from the MFA Film Program at Columbia University
Markt | Curated by Diane Pernet | March 4 - 7
PDA (Personal Development Auction)
Launch | Tuesday March 2 | Cocktails 6 - 8p
Final Bid | Saturday March 6 | 6p
RSVP robyn.berkley@peoplesrevolution.com
SCOPE NEW_YORK Exhibitor List:
ada gallery | Richmond
AGENCY | New York
Anonymous Gallery | New York
aureus contemporary | Providence
Berlin Art Projects | Berlin
Bonelli ArteContemporanea | Mantova
carol jazzar | Miami
ChinaSquare Gallery | New York
Christopher Henry Gallery | New York
Christopher Paschall Galeria (S.XXI) | Bogota
Civilian Art Projects | Washington, D.C.
David B. Smith Gallery | Denver
dpm gallery | Guayaquil
Eleanor Harwood Gallery | San Francisco
Frosch & Portmann | New York
Gagliardi Art System | Torino
Galeria Contrast | Barcelona
Galerie Andreas Binder | Munich
GALERIE GAIA | Seoul
Galerie von Braunbehrens | Munich
gallery nine5 | New York
Gallery Yeh | Seoul
Golden Thread Gallery | Belfast
Grizzly | New York
Hardcore Art Contemporary Space | Miami
hous projects | New York
Kunsthaus Santa Fe | Santa Miguel de Allende
KWANHOON gallery | Seoul
LICHT FELD | Basel
Lincart | San Francisco
Lyle O. Reitzel Gallery | Miami
Mike Weiss Gallery | New York
Mimmo Scognamiglio Gallery | Milan
Mironova Gallery | Ukraine
New Image Art | W Hollywood
Opus Art | Newcastle Upon Tyne
Program Gallery | Warsaw
RARE | New York
Station Independent Projects | Brooklyn
Symbolic Collection | San Diego
The Pool NYC | Brooklyn
TZR Galerie Kai Bruckner | Dusseldorf
Wada Garou Co., Ltd. | Tokyo
Wilde Gallery | Berlin
Witzenhausen Gallery | Amsterdan
x-ist | Istanbul
X-Power Gallery | Taipei

PULSE New York is moving to a new location at 330 West Street, at the corner of the West Side Highway and West Houston Street. The new venue, a former New York Central Railroad freight train terminal housing five blocks of the original High Line, has 30-foot high ceilings with varying levels of lofted space to be used for special projects. The fifth edition of PULSE New York will take place March 4 through 7, 2010.
"In an effort to constantly enhance the PULSE experience, we are excited to be moving to this new warehouse complex on the Hudson River," says Helen Allen. "The new space will allow us to continue the tradition of incorporating our physical environment into the overall presentation of thought-provoking contemporary art."
Encompassing over 45,000 square feet of exhibition space for approximately 60 galleries, the Fair's new venue will allow exhibitors to present works and installations that draw upon the dramatic space. The layout of the Fair will maximize the warehouse's large, open halls, high ceilings, and project space areas, creating a unique setting for this year's tighter roster of cutting-edge galleries and special programming. Located across the West Side Highway from PULSE's former location at Pier 40, the new space is more conveniently situated for exhibitor and visitor access.
Acclaimed as one of the most internationally-diverse contemporary art fairs, PULSE New York will once again feature a dynamic mix of national and international exhibitors, including established and emerging galleries, as well as solo projects in the IMPULSE section of the Fair. A list of exhibitors for PULSE New York 2010 will be available in January 2010. In addition, PULSE will once again feature its signature programs of large-scale installations and sculptures; the PULSE Play> video lounge; and PULSE Performance.
PULSE New York 2010 Exhibitors
M
P
R
S
T
V
W
Z
---
IMPULSE
---
NON PROFITS, PARTNERS, AND PUBLICATIONS

newyorkopen.htm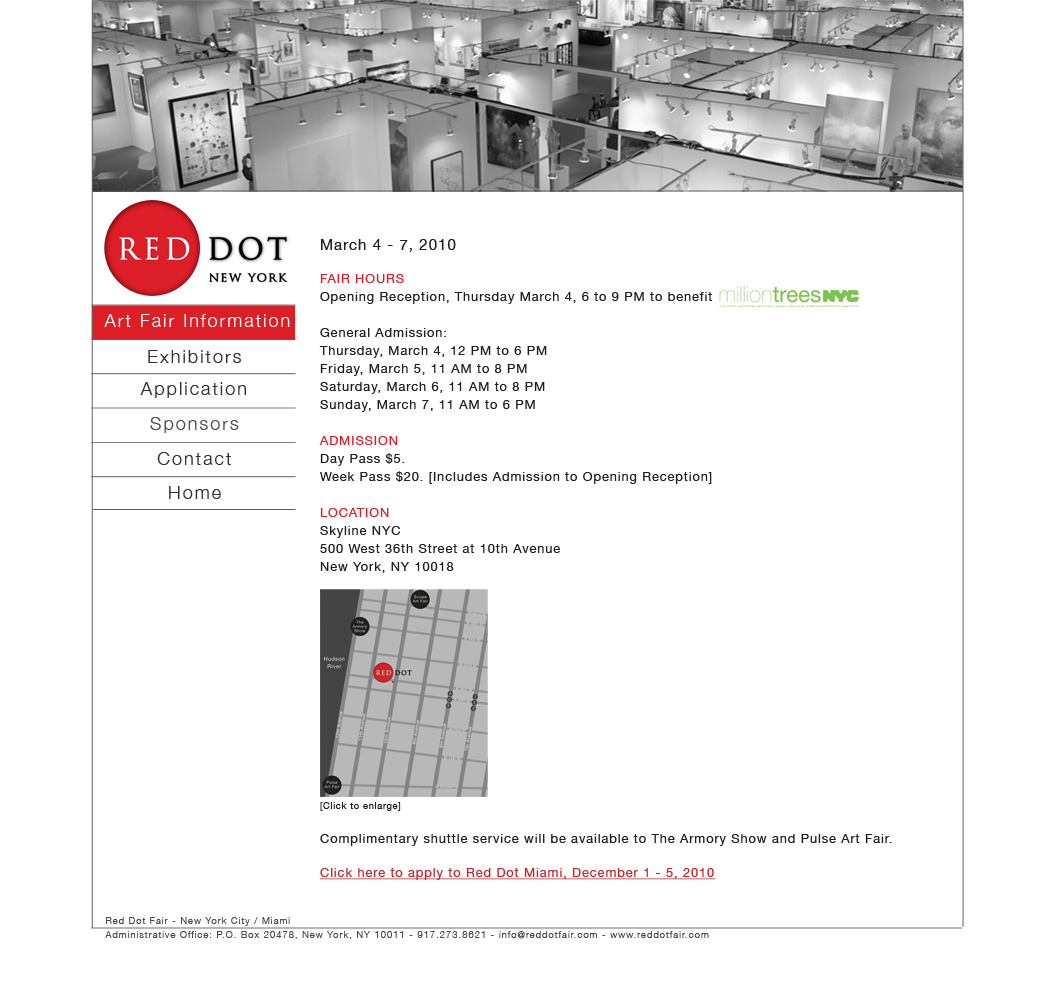 AiPAD
The AIPAD Photography Show New York
March 18 - 21, 2010
March 17, 2010
Gala Preview to benefit the John Szarkowski Fund, an endowment for photography acquisitions at The Museum of Modern Art, New York.
(To purchase Gala tickets, please visit
www.moma.org/aipad2010
.)
One of the most important international photography events, The AIPAD Photography Show New York, will be presented by the Association of International Photography Art Dealers (AIPAD) from March 18 through 21, 2010.
More than 70 of the world's leading fine art photography galleries will present a wide range of museum-quality work including contemporary, modern and 19th century photographs, as well as photo-based art, video and new media, at the Park Avenue Armory in New York City.
The 30th edition of The AIPAD Photography Show New York will open with a Gala Preview on March 17 to benefit the John Szarkowski Fund, an endowment for photography acquisitions at The Museum of Modern Art in New York City.
The AIPAD Photography Show New York is the longest running and foremost exhibition of fine art photography.
Show Hours
Thursday, March 18 11:00 a.m. to 8:00 p.m.
Friday, March 19 11:00 a.m. to 8:00 p.m.
Saturday, March 20 11:00 a.m. to 8:00 p.m.
Sunday, March 21 11:00 a.m. to 6:00 p.m.
Admission
$40 run of show pass (includes catalogue)
$25 one day pass
$10 one day pass with valid student ID
Special Events
AIPAD special events are scheduled for Saturday, March 20 and Sunday, March 21. These programs are free to ticket holders with a run-of-show pass. Attendees with Saturday or Sunday one-day show passes receive access to education sessions that occur on the same day as their purchased ticket. Seating is limited and available on a first-come, first-served basis.
Download the education program
.
2010 Catalogue
$10 if purchased separately during the Show
For more information, visit
http://www.aipad.com/publications/
.
The AIPAD Photography Show New York
March 18 - 21, 2010